Having good eye makeup can make a huge difference to your appearance. Of course it's not only about make up, and considering having eyelid surgery or filler procedures to help your eyes look brighter is a good place to start. From there, using the right shade of concealer, shimmer and white eyeliner can make your eyes appear bigger and brighter. 
There are so many tricks out there that are not hard to do, nor are they expensive. Consider a few of these tips for the times when you want your eyes to look brighter:
Using white eyeliner
The quickest and easiest way to brighten your eyes is to use a pure white eyeliner. You just need to apply it to the waterline and the corners of your eyes to give yourself a brighter look. You will want to blend it in a little, so it doesn't look too stark and like you've just applied chalk to your eyes! If you are feeling daring, then you can go for a fully white cat-eye look.
Going for concealer
It is important to not use your normal foundation, liquid or powder form, around the eye area. The eye area needs to look light and not weighed down by heavy makeup. If you have recently had dermal fillers then make sure you give your under eye area 72 hours rest before applying any makeup. Using concealers with yellow or pink undertones will help to counteract the dark circles and redness under the eye area.
Shaping the eyebrows
Having arched and neatly groomed brows can create a flattering look around your eyes and frame your whole face. You can clean up the area below and above the eyes by removing any strands of remaining hair with a pair of tweezers. Go ahead and fill in the open gaps with a brow pencil in the shade closest to your natural hair colour. You can finish up by brushing the eyebrows with a brow brush to get a clean and sharp look.
Lighten up the waterline
Try not to wear dark eyeliner such as brown or black along the waterline. Try to cover the redness on the lash line with a bronze, gold or lavender coloured eyeliner. By doing this you will help to brighten and lighten up the eye area without reducing the appearance of your eyes which is what a dark eyeliner will do.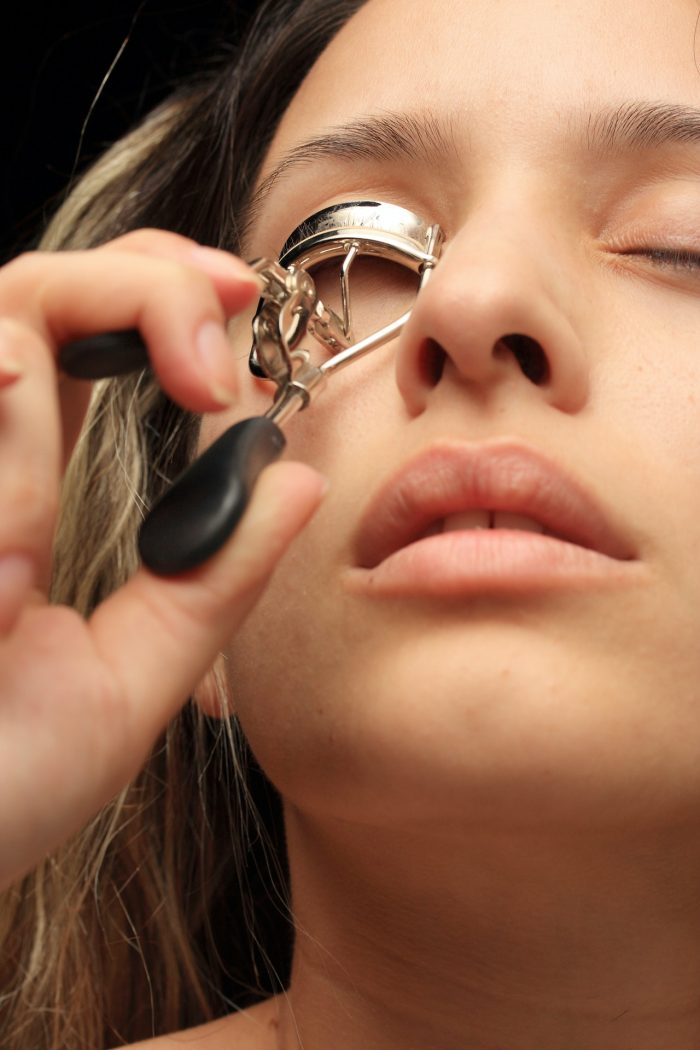 Playing with your eye colour
You want to choose an eyeshadow shade that accentuates and contrasts your own eye colour as this will make them 'pop'. If you have green eyes, then you want to try violet, mauve and purple hues. Blue eyes need warmer colours like deep grey, bronze and terracotta brown. Now with brown eyes, we recommend you use neutral colours like silver, salmon and gold.
Adding shimmer
It is important to understand that you can go overboard with shimmer, so be careful not to over use it. You can apply a highlighter or eyeshadow that shimmers to the corner of your peeps, but you need to go with a shade that is as close to your skin tone as you can get. Using the shimmer only in this area will ensure that your eyes appear brighter and bigger.
Add volume to your lashes
Applying two coats of your favourite mascara will lengthen and volumize them and make your eyes look brighter. If you want to add extra drama, then you can always apply one coat that will be the base coat then a finishing coat. If you have straight lashes, then consider adding curls to them using an eyelash curler tool which will cast more of a shadow on your eyes.
Suncare
It is essential to look after your eyes from the sun as well as the rest of your body. While sunscreen won't make your eyes look bright right now, they will in the future. Invest in some good sunscreen, a hat and sunglasses to protect your eye area long term.